Breakdancing / BBoy Lessons
Yes I teach people that have never danced!
I teach only what you want to learn.
Lessons In Seattle
Group Classes (Register through Northwest Aerials)
Northwest Aerials (Suspended Due to Low Enrollment, YOU CAN CHANGE THIS!)
12440 128th Lane NE, Kirkland, WA, 98034 425-823-2665
Every Wednesday 6:00-6:45 PM (Children's Class 9 years and younger)
$20 per class or $150 for 10 week session
Every Wednesday 6:45-7:45 PM (Adult Class Open to All Levels)
$20 per class or $170 for 10 week session.
Private Lessons
Only in the Seattle to Olympia Washington areas. Lessons typically last an hour, more if you have the energy for a fee of $60 ($30 for active duty military, police and firefighters). Call 310-490-3831 to schedule your lesson.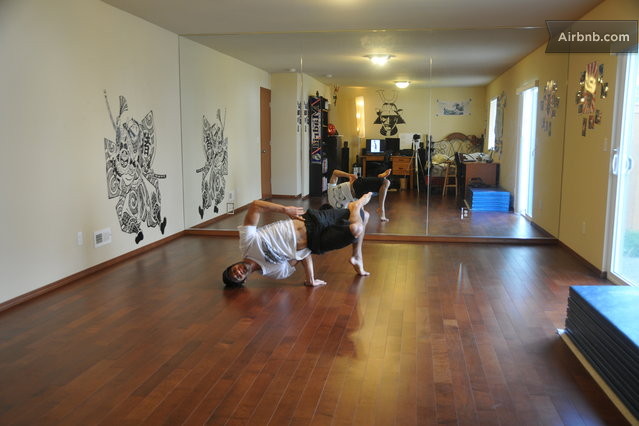 Learn in my private studio in Everett
My Mission
Safe, expert instruction, and a great time!
Safety First! If you are broken you can't dance! Then I can't teach you.
Expert Instruction, Don't reinvent the wheel, learn from my mistakes.
Great Time, If you're not happy, then I'm not happy. This is not work, this is Breakdancing!
My Philosophy
I don't teach silly dance routines, or steps, I don't make robots, I make Breakdancing Machines! I won't waste your time, but don't waste my time with all the reasons why you cant breakdance. Only a positive CAN DO attitude will get results! I will give you the tools to create your own style and boogie down. I make sure you have all the strength in the right places with the flexibility to match.
Read the instructional Breakdancing book "Monkey See Monkey Do"